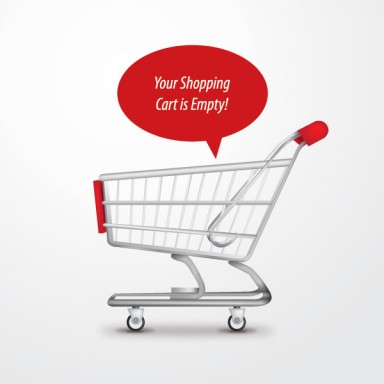 By John Siebert, an avid Tampa web designer, and 12+ year veteran of internet marketing.
The latest statistic by Forrester Research indicates that an average 71% of shopping carts are abandoned before finishing checkout. That is over 7 in 10 users and the result is an estimated 18 billion in losses. The numbers should not be taken lightly, but shockingly few are doing anything about it. According to Listrak only 13% of the top 500 online retails are attempting to recover abandoned shopping carts. Listrak claims it has helped its customers gain 20-35% back from decreases in abandoned shopping carts. What steps can your business take right now to see increases like that?
First, some easy and effective steps to implement
1. Tracking is Huge – Identify where the problem areas are
If you've gotten this far in the article then the assumption is that you're already tracking your visitors. However, if you haven't yet then scoot on over to google.com/analytics and get some free, reliable tracking. You may already be tracking, but are you sure that you're tracking the steps through checkout? It's important to know what steps your customers are getting bottle-necked at. You could find, for example, that shipping is the major bounce-point and you can explore cheaper shipping options.
2. 48% Look for Trust Marks First – Help your customers trust you
A recent study by Econsultancy polled two thousand UK online shoppers at various steps of checkout to identify their reason for leaving. Amazingly, nearly half claimed they were looking for trust symbols. Trust symbols are symbols like the BBB, secure shopping (lock icon), and MacAfee Site Secure can help insure legitimacy. Also make sure you have your SSL certificate and it is up to date. They also have EV (extended validation) SSL certificates which turn the browsers bar green or have another visual indicator of the additional level of security depending on the browser.
3. Clear Contact Details – Make your contact information visible
The study by Econsultancy also found that 48% of people abandoned their carts because they could not find clear contact details. Contact details are probably the easiest change to implement. If you are a legitimate shopping cart company then you probably already have your phone number, an e-mail address, and maybe even a live chat. If they are hidden out of site on a contact page or in a tiny unassuming area in the site's footer then why not move them to the top of the page? Or put them right into your checkout process. This will ease any concerns of consumers of being taken by a fly-by-night company.
4. Clearly State Your Return Policy
Display your return policy for your products especially if you're return policy is a money back guarantee. If you're return policy is less friendly you may still want to put a link to your return policy page so viewers can clearly see what they're options are in the event that they don't like or don't want the product.
5. Intuitive Checkout Process
Can your visitor find their way through the checkout process or are they not sure what to do next and leaving the site out of frustration? Internet users are notoriously easily distracted. Make sure your continue buttons are big, bold, and bright. Also make sure they are more visually emphasized than other buttons that might take them away from the checkout process. Check out this tool, by AttentionWizard (free trial), to analyze a visual heat map of your checkout pages. This shows what elements on the page will be looked at first and which elements may be missed from a visual standpoint.
Here are some potentially harder steps to implement, but can yield great results.
6. Shipping Costs – Lower your shipping rates
Lowering shipping rates will decrease shopping cart abandonment. Everyone's bottom line is different, but a Forrester Research study showed that 44% of online shoppers abandon their carts because of shipping costs. If it fits the budget you might want to offer a cheaper or free shipping option. If you have an option of free shipping over $x already in place then this would be a great time to remind visitors that they only have to spend $y to reach your free shipping price.
7. Not Ready to Purchase – If you customer is not ready then let them save.
The Forrester Research study also indicates that 41% of shoppers were not ready to purchase at the moment they left a cart. While there is not much you can do if they are not ready to purchase you can entice them to come back later. Options for "save cart" and "e-mail cart" can help. In fact, 24% of surveyed said they were attempting to save products in their cart for later.
8. Offer Guest Checkout
The 7th highest option with 14% of respondents of the Forrester study claimed they left the shopping cart because they didn't want to sign up for another web site. Guest checkouts are very common today. Many users expect this option. Also many of the shopping cart software out there have an easy built in option.
When all else fails and they abandon their shopping cart there are still more options.
9. Be #1, #2, and #3
Since 27% of polled shoppers indicated they wanted to compare prices on other sites why not be all of the competitors? Although it is the hardest item on this list to achieve it can also yield the best results. If your #1 for your term on Google you must assume there are some people who are going to #2 and #3 and possibly further down the list to compare prices. Since small, niche, keyword-targeted domains are working the best to get to the top spots then if you create multiple sites which don't appear to be connected then you can be in more than one top spot on Google. You can even vary prices slightly and offer say, free shipping, on one of the sites. This greatly improves your chances of a sale in the case of price comparisons (assuming they price compare on the same search engine). It's more attainable then you would probably think especially if you are already intensely search engine marketing.
10. Re-marketing Campaigns – Don't ever give up on a sale
The big guys like Amazon.com, Buy.com and Newegg.com, just to name a few, have been doing some amazing things in cart abandonment remarketing. If you leave your shopping cart abandoned with a fancy red sweater then you might see a picture of that red sweater on a totally unrelated site. Since they display their ads on so many 3rd party sites all over the internet if you visit a site that has an Amazon.com ad, for example, you will see a picture of that fancy red sweater you left in your shopping cart. Clicking on it will bring you right back to your shopping cart so you can finish your purchase. You may not have the advertising budget (or budget in general) to reach these people on your advertising network but there are still remarketing options. If you have a shopping cart, look for extensions or plugins for "shopping cart abandonment". Listrak makes an extension for the popular cart Magento. There are also many other extensions for the various other canned shopping carts out there. They can send an e-mail to users who have passed the email step. You can offer them a deal, free shipping or just remind them a week / month later. If all attempts to get them to purchase on the spot fail then try to re-capture that lead.
April 1, 2013