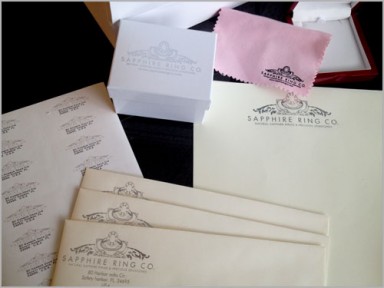 Tranquil Blue is happy to announce Sapphirerings.org as our latest development. The beauty of the site may have to do with the targeted product, but our design and development team are also to thank. Tranquil Blue is honored to be the creator of the branding for Sapphire Ring Co.
Starting with a simple eBay store, Sapphire Ring Co. has taken a big step with the unveiling of their new site. We are excited to watch the company jump from already increasing sales to the leading Sapphire Ring dealer.
Take a look at the custom packaging and mailing supplies that Sapphire Ring Co. will provide to customers. The high quality pieces with their custom logo will add an extra touch on top of the product already being shipped.
August 10, 2012