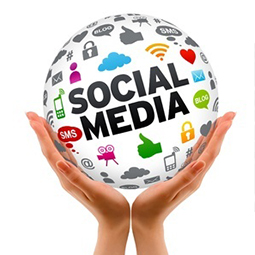 There are billions of users on different social networks. Facebook has more than 1.19 billion monthly active users , Twitter has 232 million monthly active users, and  in just two years of its existence, Google+ has chalked up more than 540 million monthly active users. This massive active usage is a great opportunity for eCommerce store owners to market their products to a wider audience.
Incorporating a social media approach into an eCommerce development effort has several potential benefits. The greatest marketing potential of social media is that it helps gain the attention of the ever-growing social media audience, allowing users to click through your eCommerce website and make a purchase.
Let's take a look at 7 ways to effectively integrate social media into your eCommerce business:
1.      Place Share Plugins on Product Pages
One of the ways of integrating social media into your eCommerce site is to add social share buttons on each of your product pages. Placing "Like", "Share", "Tweet" and "Pin" buttons on product pages provides a fantastic opportunity to eCommerce retailers to increase product awareness among a wider audience. When followers see a friend or a loved one endorsing a product, they trust that recommendation. This helps in bringing new traffic to the site.
Provide social buttons on your site and encourage your customers to share your products on social media, and you can look forward to visits from their followers as well.
2.     Use YouTube to Showcase Your Product
Another great way to gain exposure and attract traffic to your eCommerce site using social media is to create videos that help your target audience while also featuring your product. According to MultiVisionDigital, consumers are 64% more likely to purchase a product after watching a related video. TRESemme, for instance, is effectively making use of YouTube to generate sales. Each product in a how-to video is available for purchase when the "Buy Now" button is clicked.
Create really valuable and high-quality videos on your products, instructional videos, and/or interviews with industry professionals and upload them to YouTube. Make sure you enable the YouTube playlist feature, making visitors stay longer on your channel. Share these videos on your other social platforms such as Facebook and Twitter to get lot of views and generate traffic for your site from the YouTube videos.
3.     Offer Social Sign-in
According to a study by Janrain, almost 92% of shoppers would rather abandon a website than go through the process of recovering account information if they've forgotten their password. Social logins remove this problem. Users can log in with their social credentials of choice and get access to your eCommerce site easily without being required to create a new login account especially for your website. This improves registration conversions by a huge margin.
Moreover, social login helps you mine social data to create personalized shopping experience for your customers. By understanding customer behavior through their social profile, you can make useful product suggestions that will improve chances of them buying the product.
4.      Share Ratings and Reviews
People today want to read the reviews of all kinds of items before purchasing them. As per one report, 61% of customers read online reviews before making a purchase decision. User reviews, positive or negative, are proven sales driver. According to a study by review company Reevoo, a presence of bad reviews actually improves conversions by 67%.
Share product reviews on your social media pages. Consumers trust one another more than they trust retailers, so promoting existing customer reviews is a vastly superior strategy for marketing your products on social media. You can even create a poll on your Facebook business page and encourage your followers to rate the product by offering an incentive.
5.      Offer Customer Service
Apart from using social media platforms for marketing, eCommerce retailers can also use them to provide customer service and support. Social media channels are transparent, so when you provide a timely response to a customer query, you will gain credibility among your other followers as well. Providing exceptional online customer service will thus build a strong reputation for your business, thereby taking your sales figures higher. Also, satisfied customers will become strong advocates and spread the word about their positive experience with your brand among their friends and family members.
6.     Incentivize Social Customers
People always seek out cheaper prices and bargains. So entice your customers in buying your product with a coupon code only available to those who have 'liked' your page on Facebook or followed you on Twitter or Pinterest.
This will increase your number of followers, the click through rates, as well as draw in more customers. You can even provide free shipping to your followers. Alternatively, you can run contests on social media to earn new followers and generate sales.
Consumers love to save money, so hook your followers up with some nice discounts once in a while.
7.      Offer Social Features
Many eCommerce store owners are integrating social media in different ways for generating more business. Levi's, for example, makes it easy for shoppers to see what their friends are buying. Customers often get confused between two products. To solve this issue, Macy's offers 'Shop with your friend' feature to conduct a poll for the products shoppers are interested in.  It also allows shoppers to share poll results on Facebook. For retailers, such features provide extra reach and clicks.
Another great example is of the flash sale site turned eCommerce giant Fab. It has utilized a social feed of its most popular products in a unique way to best reach tis customers and highlight what's trending among their demographic.
E-commerce giant Amazon recently introduced a new feature that lets Twitter users add items to their Amazon carts by including a hashtag within a tweet. Amazon's feature reduces purchase friction and increases conversion rates.
Social media has the ability to raise brand awareness, enhance customer loyalty and develop marketing insights, all of which collectively influences your bottom line. Incorporate social media into your marketing strategies in the ways listed here to skyrocket your conversions and get more leads.
June 20, 2014