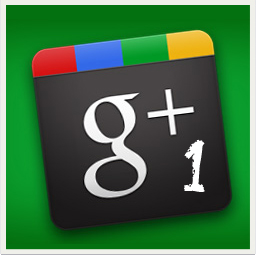 The +1 is more than the Facebook "LIKE" button.
Have you noticed a +1 icon when doing your day to day on the web? Google has taken a large step into social media with Google+. Now, instead of sharing things with a large and unknown group of people, you're getting search results that begin with recommendations from the people in your Google+ Circles.
The Google +1 is more than just a Facebook "like" or a Twitter #hashtag. Instead of showing you are interested, Google+ has integrated searches and circles to create a finely knit result page.
The bottom line is the more Google +1s you have. The better you will rank in Google.
But I'm a Business Do I Need +1?
We all know it's great for Aston Kutcher or someone's favorite product, but what about your business? More then likely it's not that glamorous. If someone +1's your business, the next time people in their Circles searches a keyword relating to your company, yours will be on the first page of Google. A bright +1 will appear under your company allowing the person to see their friend(s) recommend your services. +1's are a perfect way to build community and referrals for your business. So yes, you should be interested as a business.
Get more google+ followers
Get the +1 for your site is easy.
Websites with a +1 button receive as much as three times more exposure on the Google+ network. Add the +1 icon to your blogs, the top of your site, and products.
Click here to get create a +1 for your site.
Connect through other social networks
Link your site wherever possible through other social networks. Hyperlink text by using a call to action such as: +1 our page
Blog Commenting
Comment on blogs and in the website section use a link to your business. If they like your work, viewers will easily be able to +1 your business.
Deliver an exceptional experience
If your business can truly seek out and create fans it's a no brainer that they will hit the +1. Engage with your community. Show clients new and old you're listening to them by clicking +1 on their Google+ status's and links. In turn you will Get more google+ followers
Turn your customers and friends into fans.
The more friends you have, the better your chances will be that some of these friends will join your fan page. Just ask!
+1's the new age testimonial.
If clients and customers enjoyed your services and/or products, there is a good chance they want their circles to know! Create a thank you email and link to your site to +1.
Follow Up Emails
After you complete a customer's job or after they buy their product send them a link to the product or service and ask them to click the +1 if they were satisified.
Talk and Blog about +1
Educate clients about Google+ and the +1. Most people are still unsure what it actually does. Get the word out by mentioning your business is using the Google +1 through blog posts and everyday conversation. Ask them to +1 your site to test out Google +1.
+1 is still quite new and unused. Just take some time to educate people around you.  Everyone loves recommendations from friends and Google is letting you know what they think. You can help them get more google+ followers while building your own google+ following. =)
October 6, 2011