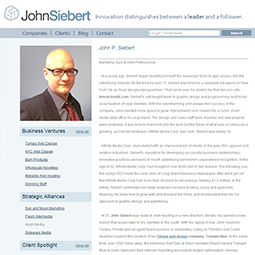 John Siebert began teaching himself at a young age. By the time he was 17 he had developed the skills to break ground in the advertising industry. He was scooped up by a small agency in New York as a web designer. Siebert's programming and design abilities led to his new network of clients. In that same year he started his first internet property, Interactive66.com. With happy clients and a growing client base Siebert built up Interactive 66 and moved into a small boutique style office in the suburbs surrounding New York City. At 19 years old an avalanche was slowly building. With new projects underway and programming & design staff doubling, the working routine was branded and so was the future of a growing and successful entrepreneur. This lead to a corporate rebranding and a huge push to build clientele called Infinite Media Corp.
Infinite Media accrued a very impressive list of clients in the film, aviation, retail , and real estate industries which helped to grow Siebert's reputation. Further developing successful strategic partnerships, innovative work flow processes and referrals based advertising earned him warranted recognition. At the age of 21, Siebert's business Infinite Media had brought in over .5 million in sales. The following year, with experience and a great staff behind him he made the cover story of Long Island Business News by grossing over $1.2 million at age 22. Where he commends his success in being ahead of times and incorporating his approach to web design and internet advertising.
John moved to sun drenched Tampa, Florida and began an restructuring effort that would prove successful. Inspired by the beach culture and laid back attitude, Tranquil Blue was born. From this new location he was able to reach record levels of success for the notorious Surf Club in Westhampton Beach. The club's success helped boost Tranquil Blue's reputation and moved the ad agency to the next level.
A new shoot off vertical was Bam Products. This retail endeavor moved Siebert from a talented marketer, skilled graphic designer to an online retailer. The next most profitable and accomplished dot.com. Frattoys.com another of John creation only a year old had brought in over $425,000 in sales. This lead to a network of retail sites including BamWholesale.com, Irontap.com, FranTanks.com and the newest creation FlyingTubes.com. With these sites in mind John decided to build alliance with international companies to produce and import products for his niche sites.
John Siebert's empire still maintains its success in both production and performance; Tranquil Blue Advertising along with his other sites even after 5 years is still very prosperous. New clients, designs, advertising projects and opportunities are being presented daily and the future is sky the limit for this Tampa guru that started at a very young age.
August 11, 2011