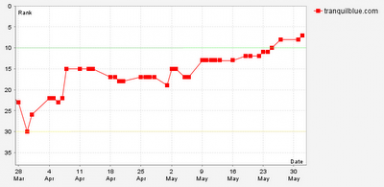 As we had mentioned a few months ago. Our plan was to get to #1 for the term "Tampa Web Design" in Google, Yahoo and Bing. Our first post showed us at position #50 in Google. This was way further down the listings then any rational person would go to find a web designer in Tampa. We had to make some changes and we decided we would blog out our way to the top. By April we were able to get to the first page in Bing, but Google was a harder nut to crack. We have finally secured our spot on the first page and plan to get to the top 3 in the next month or two. Below are some graphs that show our ascent.
Our Google Rankings
As you can see. Our Google path was a slow and arduous one. A steady growth over what seemed like a long time. Although it was a few months of honing our on-site and off-site characteristics.
Our Bing Rankings
You will notice that we were able to rise much faster in Bing (Note: this is under a longer timeline). We stay relatively constantly in the top 5 positions on Bing throughout the last few months. We anticipate staying in this general area, or much towards the coveted #1 position, as time goes on.
Our results are typical to campaigns that we undertake. If you would like to speak with someone regarding your position in the search engine world. Please contact us at 631-581-6090.
Update ***
We have broken to our goal of 3-5 positions in Google as well as #1 in Bing for the terms "Tampa Web Design" and "Tampa Web Designer". Now onto new terms. Thanks for reading along.
April 22, 2013