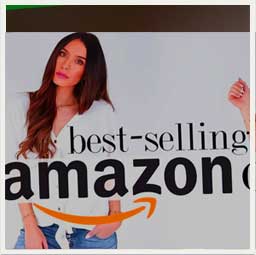 Selling Clothing on Amazon for Beginners
A few things about selling clothes on Amazon. 
Clothing has the highest return rate of any category. Returns can be as high as 20-40%. 
This is for items that you have to try on and see if it matches your style. For this reason we should go with items that are not just based on style. Not just based on your personal preference. 
After Amazon trusts your account. After Amazon notices that you are a solid seller. A seller who they have confidence in listing your products high. Then you can sell clothing and have Amazon FBA manage returns and shipping of replacement items. 
For example, waist trainers are clothing. However tbey are not based on your style preference. They are for a function. For a certain activity. Waist trainers are for working out and customers don't care about the style very much. 
Waist trainers are not something a customer would try on and look in the mirror. They are not something that you would look at and return for a slightly different color. Customers would not look at and see if it fits with other clothing they plan on wairing. 
That type of item is something that customers are buying and won't be as picky about accepting it. This will lower the rate that customers return the item. 
Other items are like the waist trainer that should be listed and sold in the beginning. Items such as corsets, costumes, Christmas wear, leggings, and fantasy clothing. 
The goal is to start selling items and not have a high rate of return. 
Why do we Want a Low Rate of Return?
The reason we want a low rate of return is simple. Amazon uses an algorithm to rank which items will be shown to viewers of it's website. Amazon sells, literally, millions of different styles, sizes, and colors of products. 
Viewers of Amazon's website are only shown a very small fraction of the products that are available. Since Amazon has an extremely large number of potential products to display. They must decide which products are to be shown. 
67% of all clicks on Amazon search page results go to the first 5 listings. The first page of search engine page results on Amazon receive 95% of the traffic. This means that you must be ranked up high in the search results to even be seen by Amazon website visitors. 
For this reason we want to make sure that Amazon favors our account and favors our listings. To make this happen we want Amazon to really like both our account and our products. There are a few things we must do to make sure that Amazon wants to display our account over thousands of other sellers that are selling clothing. 
Key Things we Must do as a Beginner Seller of Clothing on Amazon
There are a lot of ways to get Amazon to trust your account. Amazon uses sophisticated algorithms that don't rank all trust items equally. It's best to focus on the items that Amazon places the most trust in. 
Here are key items to focus on:
Conversions – This means how many people buy the item after viewing it. The higher percentage of people who look at the item and then buy it is best. That means if 100 people look at the item and 20 buy the item then that is a higher conversion rate then if 100 people look at the item and 5 buy it. The higher percentage of people buying the item when looking at it the better.

This is why we will want to focus on items that will sell better and have lower returns such as the waist trainers and costumes.
Customer Satisfaction and Customer Retention – This is why we are starting with products that will not be returned. We want Amazon to see that we are selling clothing items. This will show Amazon's AI that we are selling products that usually have a high return rate. However, our items, although they are clothing items.We will not have a high return rate with the products that we are selling fist. It will trick Amazon into thinking that we have items that are hard to sell but are rarely returned. When in comparison to other products in the same category. Our products will appear to be amazingly effective.
Feedback and Reviews – It's very well known that

feedback and reviews influence Amazon's ranking

of products. Sites such as eBay, Wish and even Google Products follow the same procedure. These 3rd party sites even crawl to reference the rankings on each other's sites to identify products and sellers with good ratings.

It's good practice to influence real customers to write reviews by messaging them after they make a legitimate purchase. Also it's smart to have friends, family and associates buy your product and leave a good review. Often we offer coupons and discounts to users to write reviews.However, Amazon is very smart and using fake reviews or influencing buyers to write reviews that they normally would not have written is called blackhat marketing. Blackhat marketing is frowned upon and can lead to your rankings being pushed to the back of Amazon's search results. It can even cause your account to be blocked or banned. This technique should be used sparingly.

Deciding on which clothing items to sell on a new Amazon account can be nerve wracking. It must be done with care and all of these factors have to be considered when choosing which items to list initially.
Thanks for reading and leave your comments. We would like to wish you the best of luck with your Amazon selling. 
June 28, 2020